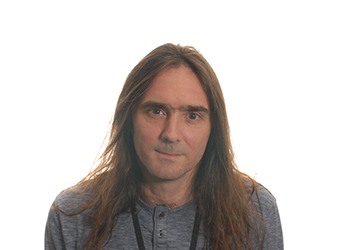 The James Hutton Institute is pleased to announce the appointment of Dr Robert Hancock as Deputy Director of the Advanced Plant Growth Centre (APGC).
Dr Hancock has been closely involved with the development of the project since its inception, and has played a key role in developing the phenotyping platform whilst working with the UK academic community through PhenomUK. This collaboration has been in pursuit of ensuring the integration of the APGC with other UK phenotyping platforms.
As the new Deputy Director, Dr Hancock brings his expertise as a plant physiologist and biochemist with a notable track record in industry collaborative research, focussing on resource use efficiency and response to abiotic stress in crops, primarily potatoes and soft fruit. He also served as an Associate Editor for the Journal of Experimental Botany, completing a five-year appointment as a core member of BBSRC research committee B focussed on plants, microbes, food, and sustainability.
The appointment is crucial for the development of the APGC with resolution of the phenotyping centre encompassing state-of-the-art phyotyping and advanced controlled plant growth environments, nearing resolution.
---
"I am delighted to be appointed this role at a key time in the development of this exciting project. It will massively enhance the capacity of the James Hutton Institute to deliver not only to industry needs around vertical and indoor farming but through critical imaging and phenotyping technologies to the wider agricultural sector by delivering new varieties and management technologies to enhance the efficiency and resilience of agricultural production. I look forward to working with Professor Stewart to make Tayside a global centre for precision agriculture."
Dr Robert Hancock
---
The Advanced Plant Growth Centre, together with the International Barley Hub (IBH), is part of the Tay Cities Regional Deal partnership supported by £45m from the UK Government and £17m from the Scottish Government. The APGC combines five core facilities, interconnected but independent, to facilitate scientific innovation and discovery.
Professor Derek Stewart, Director of the APGC said: "I have worked with Rob for many years, and he has demonstrated that his science is of a high calibre and firmly in the APGC target areas. His more recent activities to ensure integration of the APGC into PhenomUK and its associated activities makes him a perfect candidate for the role."