There is only one future, and that future needs vertical growing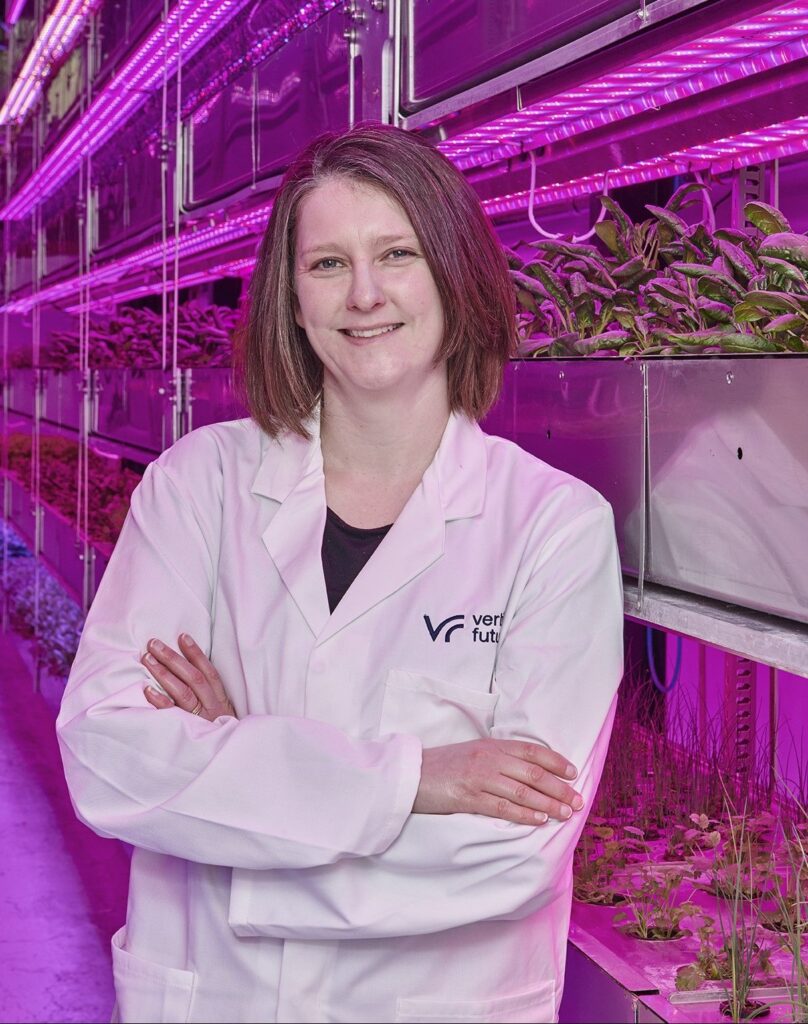 With a focus on health and improving crop quality, Vertical Future is trying to push the boundaries of what vertical farms can do. The neutral analysis of areas for improvement, as well as expertise in metabolomics, means the Advanced Plant Growth Centre (APGC) has been incredibly beneficial to Vertical Future's continued growth and success.
Vertical Future was founded in 2016, with the business beginning as a producer with a vision to provide fresher, healthier and more nutritious produce in urban environments to local consumers. While also having a better impact on the environment, through reduced and more efficient land use, water use and nutrient use.
Dr Jennifer Bromley, Chief Research Officer, Vertical Future said: "The name reflects the spaces in which they were growing. Space is scarce but needs to be more expansive with increasing numbers of people living in urban areas. There is also only one future, and that future needs to feature vertical growing."
Vertical Future expanded in 2018 when the business transformed from producer to technology developer. Dr Bromley discussed some of the technology which has been produced: "The system was developed in collaboration between plant scientists and engineers – they were very much developed with plants at heart. We thought about what the plant needs and how it grows and the systems are absolutely optimised for the plants, rather than having to optimise the plants for the systems. This is a key differentiator in the industry.
"Having a plant scientist sitting on the team from a very early stage is unusual in vertical farming. They knew they really needed an excellent engineer and someone who knew plants inside out so they could optimise the system properly."
Vertical Future's focus on improved quality and consumer health means even entry-level crops to vertical farming such as herbs and lettuces are developed to deliver an improved nutrient density, they are also looking to identify anti-cancer properties through beneficial phyto-chemistry.
---
"From a science perspective and from a business perspective our relationship is focused on the health angle. The expertise in metabolomics embedded within the APGC is really very interesting for Vertical Future and gives us that opportunity to think about how we grow crops and what they are made up of. The opportunity to work with the APGC team on things like that is incredibly important to us"
Dr Bromley
---
Dr Bromley added "The phenotyping capabilities is one of the key functions that we are utilising and it provides some exciting opportunities for us. The post-harvest storage is also important as there is a lot of emphasis put on shelf life within vertical farming."
With everyone trying to create a niche in the sector and stand out from competitors cross-sector collaboration can be challenging. Dr Bromley said: "There are specific areas which the APGC is focused on that can bring real benefits. Areas such as lifecycle assessments and analyses are really important and the APGC offers a neutral analysis and a non-commercially biased view on areas that we need to improve and where the focus should be.
"Providing insight and recommendations on the metrics we should use through the independence of view and also aggregating data from a range of commercial organisations will be where the APGC can excel. It will be like other Research Technology Organisation (RTOs), utilising its independence and expertise to drive the industry forward."
---